For every teenager or adult who has a secret dream to ride a carrousel, the Manège Carré (from Le Manège Carré Sénart) is a must. Young and old (and everything in between) can enjoy a ride on this very special carrousel. Not with the obvious horses, no with buffalos, reptiles, insects to ride on… Beautifully handcrafted animals. The Manège Carré is one of the main attractions from the 'Summer of Antwerp' (Zomer van Antwerpen).

And just a few hundred meter further down the road, I discovered – once again – a mysterious scarecrow! But this one was engaged by the Summer of Antwerp as a 'sandwich man' to promote the Manège Carré…
(see also my previous posts on the myterious scarecrows).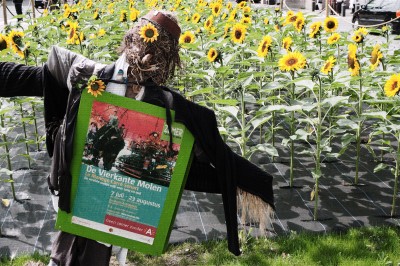 Eddy